ASSOCIATION NEWSLETTER

The official printed monthly publication. Stay informed on recent news and happenings of the association. Learn about involvement opportunities for members, read up on the latest building permit stats and keep informed of the latest news which may impact your business. Issues are mailed to Primary and Affiliate members around the 1st of the month.
Advertise in the newsletter
Advertising in the newsletter is a great way to get your company's name in front of your fellow members.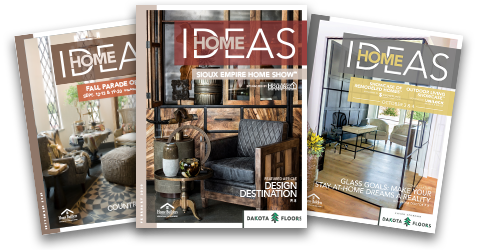 HOME IDEAS MAGAZINE

This free magazine is the official industry and event publication for the association.
The publication promotes the association's major events and members.
Pick up your free issue at our office.
Advertise in Home Ideas
Advertising in the newsletter is a great way to get your company's name in front of consumers.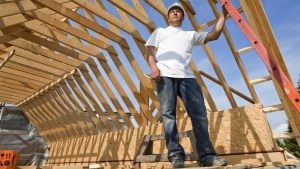 Reposted from nahbnow.org
In a critical win for NAHB and the residential construction sector, the Department of Homeland Security (DHS) today designated construction of single-family and multifamily housing as an "Essential Infrastructure Business."
The designation will enable many home building firms to keep their businesses open during the COVID-19 pandemic and help to stabilize the housing industry and its supply chain in the near term. More detail about the construction workers who qualify as essential can be found in both the "Public Works and Infrastructure Support Services" and "Residential/Facilities and Services" sections of the guidance.
Keep in mind that there is no mandatory federal order on what is an essential business, and many states have their own rules. This is guidance from DHS that states can follow. Therefore, in states where only essential businesses are allowed to keep operations going during the coronavirus epidemic, residential construction workers should continue to be allowed to stay on the job.
NAHB was at the forefront among all housing groups in calling on DHS to make this designation.
"Americans depend on a functioning residential construction sector to provide safe, affordable housing for our citizens, and this need is especially acute during this pandemic," said NAHB Chairman Dean Mon. "Moreover, a healthy housing market is critical to maintain a sound economy. I commend DHS for heeding the urgent concerns of the housing community and taking this decisive action to assure the men and women of the industry will be able to stay on the job and serve the needs of the American people at this critical time."
On March 26, in an effort spearheaded by NAHB, 90 companies and organizations sent a joint letter to Acting Secretary of Homeland Security Jack Wolf urging him to designate the construction of single-family and multifamily housing as an Essential Infrastructure Business.
"As cities and states issue declarations and public health orders as a result of the crisis, it is essential that communities have access to our professionals to build and maintain essential services including: building, plumbing, residential property management, rental housing operators, roofing, electrical, HVAC systems, waste/wastewater treatment plants and power generations," the letter stated. "Home construction, including those industries listed above, should be designated as 'essential' because it is necessary to maintain safety, sanitation, and economic security."
Access the latest NAHB news and business resources to respond to this challenge at the Coronavirus Preparedness and Response section on nahb.org.
See original post here.

Spring is just around the corner, but the construction industry continuously works year-round. While 2020 has taken an unexpected turn for both the world and our local communities, it is important to remember that our current state is only temporary and soon enough, life will return to normal.
As many are spending more time at home due to social distancing, now is a perfect time to start planning your upcoming indoor and outdoor home-related projects. Members of the Home Builders Association of the Sioux Empire consist of a large variety of companies from Builders and Remodelers to Landscapers and more. Have you been thinking about remodeling your kitchen, creating an inviting outdoor entertainment area, or are you ready to build your dream home? Now is a great time to contact a building professionals to get on their list to review your project.
When planning your next project, stop by the member directory page at hbasiouxempire.com to find companies to work with from the planning to final stages of any project you may have in mind. Start contacting these companies now so that you can get on their list before spaces start to fill up for the year.
# # #
Media contact:

Annette Amdahl
Public Relations Director
(605) 212-7707, annette@hbasiouxempire.com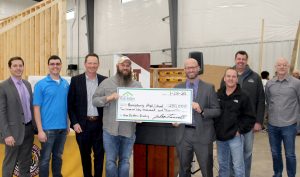 In a continuing effort to grow our future building trades' workforce, the Sioux Empire Home Builders Care Foundation and the Harrisburg School District held the official ribbon cutting of the Home Builders Academy on Harrisburg High School's campus. A check presentation for $250,000 from the foundation was also held during this press conference along with certificate presentations of graduating students.
In the new Home Builders Academy building, students will learn the basic skills needed to construct a home. Not only will the Sioux Empire Home Builders Care Foundation be the lead investor of the new building but industry leaders will also be coming into the classroom to provide industry expertise.
The Home Builders Academy broke ground during the groundbreaking ceremony in July 2019, while the first students to participate in the program, began their classes in the Fall. During construction, classes were held in the shop of Harrisburg High School, but since completion, the students have moved their projects into the new facility.
Click here for photo gallery of event

Check presentation from Sioux Empire Home Builders Care Foundation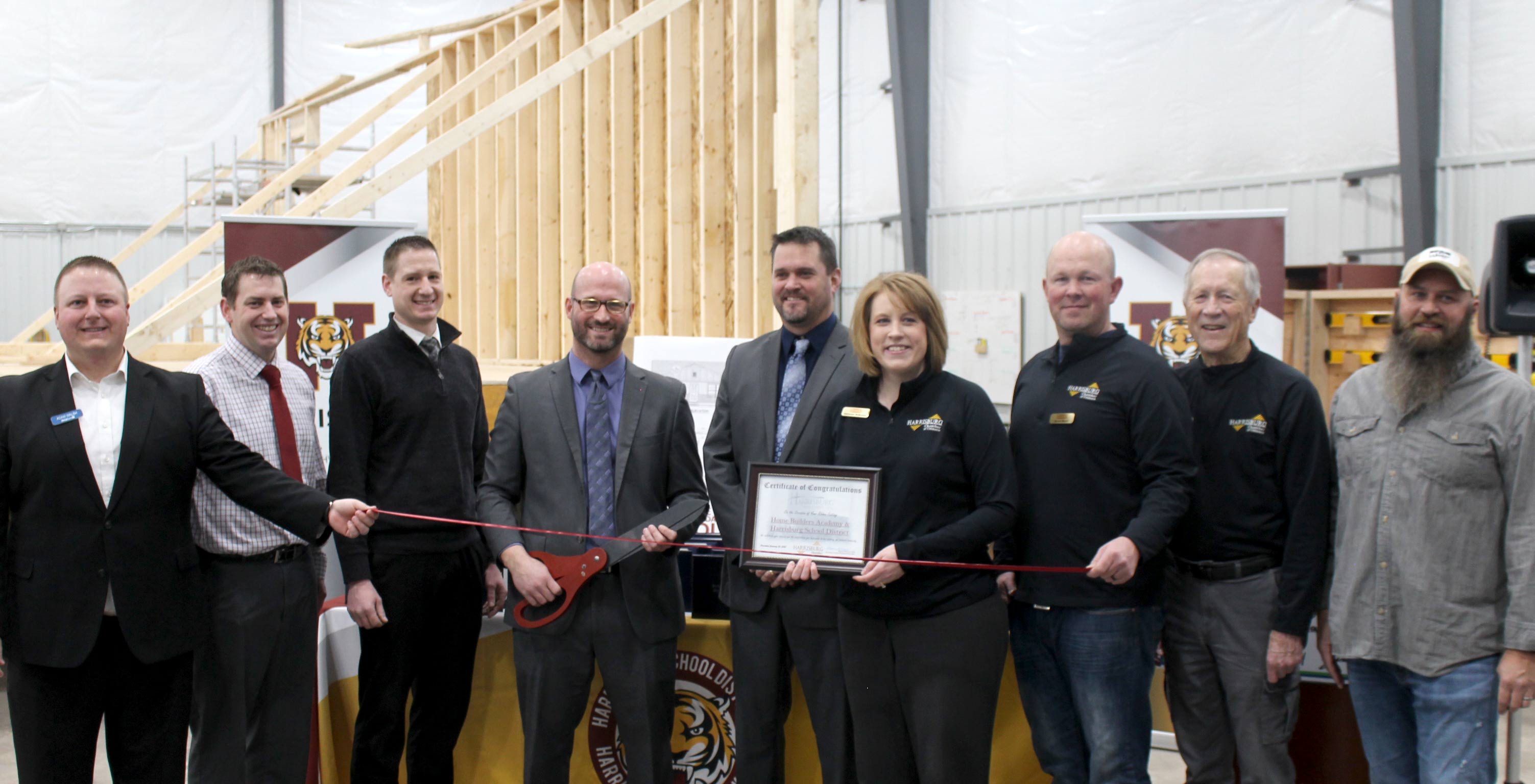 Ribbon cutting with the Harrisburg Chamber of Commerce