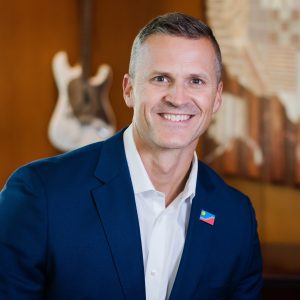 By Mayor Paul TenHaken
Sioux Falls is experiencing record growth, as evident by our recent milestone of filing $1 billion in building permits for 2021 even before the close of the year on Nov. 22. We continue to see new businesses open and existing businesses announce expansion—a key indication that we're on the right path as a community. Our community continues to be a draw as an exceptional place to live, work, raise a family and start a business.
The flip side to our record growth brings with it tension in both workforce and housing needs. Know that as a City team we are very intentional on being strategic with our growth management planning. We are having ongoing conversations to ensure we are growing in a sustainable manner, which includes conversations around housing concerns. A sufficient housing supply is critical to recruiting and retaining our city's workforce to sustain our economic growth.
While housing demands have recently become more apparent in Sioux Falls, our attention to housing as a foundational element for economic growth is not new. When I took office in 2018, I developed the One Sioux Falls framework to focus on the city's most pressing issues, including housing. That decision to create housing as an administration priority has helped to lay a foundation to prioritize housing needs today. We must continue to adapt to our response to the community's housing needs as Sioux Falls grows, and we're tackling this complex issue through a diversified approach that is focused on partnerships and collaboration.
That includes partnerships both at the state and local level, including continued collaboration with the Home Builders Association and South Dakota Multi-Housing Association. For example, we rely on industry input when considering changes to building codes that will affect the housing industry, and we appreciate this continued partnership.
Our 2026 Housing Action Plan serves as a multifaceted framework to help solve today's challenges, with focus areas on land, workforce, public incentives and partnerships, design and building standards, and infrastructure. We're already seeing success in several areas. Business partnerships such as Millard Acres, a partnership with Habitat for Humanity to construct 26 affordable twin homes, are important areas of opportunity. We have also increased support for Forward Sioux Falls and Southeast Technical College, and with the City Council, developed a Housing Fund to generate creative approaches that address needs across the broad spectrum of the industry.
We recently created the City's Neighborhood Revitalization Division, which brings our teams that address housing and neighborhoods together and working to keep existing Sioux Falls neighborhoods investable. This division is working with property owners and meeting with neighborhood associations on keeping property up and crime down in Sioux Falls. Within the Planning team, we recently added a new plans examiner to help address our growing workload and review plans in a timeframe that affords our contractors the ability to reasonably meet their project timelines.
Moving forward as we advance our 2026 Housing Action Plan, we continue to focus on strategies that will move the needle on housing within the identified core areas. That includes continuing to leverage available federal funds and public incentives to reinvest in our city's core neighborhoods. Among many efforts, we are also working with partners to proactively assemble land for redevelopment and for moving existing homes. Additionally, in 2022, we will be sharing recommendations from the Accessible Housing Advisory Board (AHAB) for the Housing Fund. These recommendations will address single-family, multi-family and neighborhood revitalization, all critical components to housing in Sioux Falls.
Addressing our community's housing needs will require a continued focus on collaboration and a strategic approach to position Sioux Falls for the future. Thank you for your continued partnership in this important work.