ASSOCIATION NEWSLETTER

The official printed monthly publication. Stay informed on recent news and happenings of the association. Learn about involvement opportunities for members, read up on the latest building permit stats and keep informed of the latest news which may impact your business. Issues are mailed to Primary and Affiliate members around the 1st of the month.
Advertise in the newsletter
Advertising in the newsletter is a great way to get your company's name in front of your fellow members.
HOME IDEAS MAGAZINE

This free magazine is the official industry and event publication for the association. The publication promotes the association's major events and members. Pick up your free issue at our office.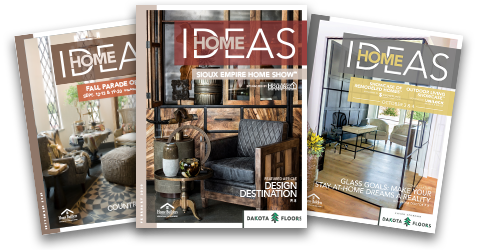 Advertise in Home Ideas
Advertising in the newsletter is a great way to get your company's name in front of consumers.
It's All About Membership
September, 2022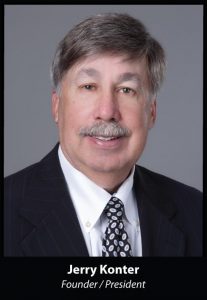 Written by: Jerry Konter, NAHB Chairman
In the 45 years that I have been a part of the National Association of Home Builders, I have seen the importance of membership prove itself again and again. A strong membership is critical to the life and longevity of our Association, and the home building industry.
Without going too far into ancient history of how strong membership body has played a role in benefitting residential construction, I want to focus on two very recent examples. First, the designation of home building as "essential" at the beginning of the pandemic, and second, NAHB's response to the lumber price crisis.
In March 2020, when the whole world ground to a standstill, NAHB was able to lobby on behalf of our national members-who come from our 700 local and state HBAs-to have residential construction considered an "essential" business that was allowed to continue during the early days of the pandemic when no one else was working. In our industry, time is money, and with the ability to continue building housing for American families, residential construction helped lead the economy forward from 2020 COVID slowdown.
Then, as the pandemic continued and economic forces worked against the home building industry, the price of lumber skyrocketed, leaving many builders in the lurch. How could we build the American Dream of housing opportunity and ownership in an affordable way without reasonably priced lumber? NAHB got to work.
One of the most effective actions we took was on a letter we wrote to the White House earlier this year, demanding real, lasting change. Over 10,000 NAHB members signed on that letter, the largest single membership mobilization effort in the history of the association. Within a few days, the White House reached out, asking for a meeting to discuss possible solutions.
What does all of this have to do with membership? Everything.
Just recently, I had the opportunity to testify on Capitol Hill about housing affordability. That happened because Congress recognizes the power of NAHB's members. And the more members we have, the more work we can do on behalf of those members.
Now is the time to get engaged in your Fall Membership Drive, Soaring to New Heights. Building a culture of membership is absolutely mission critical to providing safe, affordable housing to the Sioux Empire, a strong membership means a strong industry. When the industry is strong, your business is strong. It's all about membership. Now is the time to get in the game, recruit a new member, and help build your local, state, and national association from the inside-out.
Housing Begins to Slow as Financial Conditions Tighten
August, 2022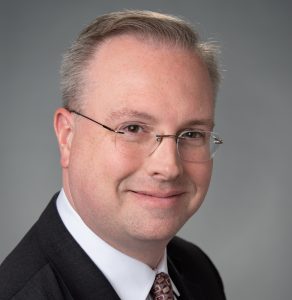 Written by: Robert Dietz, Chief Economist and Senior Vice President for Economics and Housing Policy for the National Association of Home Builders
The Federal Reserve further tightened monetary policy at the conclusion of its July meeting by raising the federal funds target rate by 75 basic points. The Fed also committed to reducing its balance sheet, including net sales of mortgage-backed securities by $35 billion a month when fully phased-in. As a result of these moves, mortgage interest rates are closing in on 6% — the highest level since the 2008 financial crisis — and will continue to climb as further tightening is expected throughout the year.
The ongoing bad news for inflation is the immediate trigger for current conditions: Inflation reached a fresh 40-year high in June, with the CPI up a painful 9.1% year-over-year, which was the largest gain since November 1981. Economic policy needs to focus on improving the supply side of the economy by bringing down energy, transportation, and material costs. Without such policy, the Fed is left to do all the work of fighting inflation, and the Fed's tools are crude: Raising rates slows demand and has an outsized impact on interest-rate sensitive sectors such as housing.
Due to the supply-side challenges, single-family starts in June decreased 8.1% to an annual rate of 982,000. Single-family permits decreased as well, dropping 8.0% and bringing the annual rate down to 967,000 — its pace since June 2020. Further declines are expected in the months ahead, which itself is a recession warning for the coming quarters.
Total existing home sales in June — including single-family homes, townhomes, condominiums, and co-ops — fell 5.4% to a seasonally adjusted annual rate of 5.12 million. On a yearover- year basis, sales were 14.2% lower than a year ago.
New home sales in June fell to the lowest level since April 2020, reflecting declining builder sentiment as construction bottlenecks continue to slow new home building and raise housing costs. Sales of newly built, single-family homes in June fell 8.1% to a 590,000 seasonally adjusted annual rate.
New home sales are down 13.4% in 2022 on a year-to-date basis. New single-family home inventory remained elevated at a 9.3 months' supply, up 60.3% over last year, with 457,000 available for sale. However, only 39,000 of the new home inventories is completed and ready to occupy. The median sales price dipped to $402,400 in June, down 9.5% compared to May, but is up 7.4% compared to a year ago.
Higher interest rates coupled with rising home prices is pricing out many home buyers and worsening housing affordability. A recent NAHB study shows that every quarterpoint hike in mortgage rates would price out 1.1 million households. While the Fed can cool the demand-side of the economy (reducing inflation and growth), additional output on the supply-side is required to tame the growth in costs that we see in housing and other sectors of the economy. The best way to ease growing affordability challenges is for policymakers to address ongoing supply chain disruptions that will allow builders to construct more affordable homes.
Despite the lack of resale inventory in the housing market, higher interest rates — combined with rising construction costs (up 19% year-over-year, despite softening lumber prices) — are taking a toll on home builder confidence. In July, the NAHB/Wells Fargo Housing Market (HMI) fell 12 points to a level of 55. This marks the lowest HMI reading since June 2020 and the largest single-month drop in the history of the HMI, except for the 42-point drop in April 2020.
We anticipate single-family construction will post a decline in 2022 and slow even further in 2023 as higher interest rates weigh on housing affordability. In contrast, multifamily starts posted strong gains this year due to low vacancies and rising rents. Home improvement spending also increased as the surge in home equity enabled more homeowners to finance remodeling projects. We expect both multifamily construction and remodeling will continue to expand this year, though high construction costs and affordability challenges are making some developers increasingly cautious.
We foresee a modest economic recession in early-2023 given tightening financial conditions and increased economic uncertainty. Higher interest rates will undoubtedly slow housing and business investment, acting as a drag on economic growth. The unemployment rate is therefore expected to rise from near cycle lows to above 5% in 2023, while broader-based inflation will ease further as the economy slows.
Despite these medium-term macroeconomic headwinds, there remains a housing deficit in the United States. This means as the economy exits this period of higher inflation and a recession in the coming quarters, it will be the housing and home building sector that will recover and expand first. An aging housing stock will also support demand for remodeling activity, and as mortgage interest rates rise, the demand for rental multifamily and single-family housing will remain solid.
Home Values and Interest Rates: What Does History Tell Us?
July, 2022

Written by: Brent VanderGriend
"What is the real estate market going to do?"
"What are interest rates going to do?"
We get those two questions a lot.
Especially lately.
Here's the thing: No one has a crystal ball and knows for sure. That's the truth. However, we
can look at the data and differences from today's market versus that of the housing crisis of 2008.
Here's what we know: Real estate is LOCAL and interest rates are everchanging.
Let's talk about the home prices and home values first.
What's happening in one part of the county isn't always happening in other areas of the country.
If you're concerned about the market in and around Sioux Falls, I'd consider why you're asking the question as it'll help you remove a lot of the emotion. Is it because of something you heard on the news or read on social media? Is it because homes just seem more expensive? Or
have you talked with a local Realtor, Home Builder or Mortgage Lender?
What I can say with a lot of confidence, is that over time real estate has
always done well, especially in the Sioux Empire. There are ups and downs, some of those ups and downs are stronger in other parts of the country than ours.
However, home prices that were completely CRUSHED in 2008's crash
have fully recovered and hit new highs.
If you're trying to speculatively invest in real estate and are looking for a quick entry and exit, I cannot confidently tell you, "That's a good idea."
In fact, I think it's always a bad idea if you're looking for a "sure thing".
If you're looking to buy a home to live in or hold as a rental property, I don't think it is dangerous to buy, ever.
What caused the crash in 2008 isn't something you need to worry about this time around. The mortgage industry is much different today than it was in 2006-2007 (I think that's a good thing). Back then, nearly anyone could purchase a home, regardless of credit, income, assets or
all-around credit worthiness.
I can confidently say you'll want to have a place to live in the future.
And, currently, owning a home is less expensive than renting. At least
in our market.
Are home prices higher today than they were a year ago? Yes, 19.3%
higher year-to-date in the Sioux Falls Metro (through May 2022).
The good news is, over time real estate values are likely to continue to increase. CoreLogic (a trusted source with knowledge in economic, social, and housing) forecasts that home prices will appreciate 5.6% in the year going forward, though this annual figure is still much more
conservative than many other forecasts. But even if CoreLogic's annual forecast is correct and home prices rise closer to 5% over the next year, this level of appreciation is still extremely meaningful for wealth creation. For example, if someone bought a $400,000 home, they would
gain roughly $20,000 in appreciation over the next year.
Another thing different in today's market, is that we have housing inventory of roughly 1.03 million homes nationwide. In 2007, at the peak, there were 3.7 million homes for sale. There are also roughly 14 million more households in the U.S. today. There is much less supply and a lot more demand for housing, which will make it extremely difficult for a 'crash'.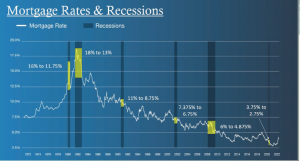 So, what about interest rates? Are rates higher today than a year ago? Absolutely. However, most economists believe that we are nearing, or are in, a recession. If that turns out to be true, mortgage rates have historically dropped following the past 6 recessions, dating back to
1980. If history repeats itself, we may see lower rates in the next year or two.
However, there are some strategies to help combat rising rates today.
• Ask your lender about ARM (Adjustable-Rate Mortgage) options. Many ARM loans offer a lower starting rate than a 30-year fixed rate and ARM loans don't make an adjustment to the interest rate until 3, 5 or 7 years down the road. If rates drop, you could look to refinance your mortgage loan and drop the rate you'll be paying.
• If you are considering building, ask your lender about a 12-month lock or other long term rate lock options. This can help take the stress and uncertainty out of what interest rates will be in 2023, when your home is likely to be complete and you are working through options on your permanent financing.
• Analyze any other debts that you may be paying on (credit cards, car payments, student loans, etc.). It may make sense to make less of a down payment on your mortgage and use those extra funds to pay off other debts that are at a higher interest and/or carry a higher monthly payment.
While your mortgage payment may be a little higher, this strategy may allow your overall cash flow and monthly budget to remain more favorable.
It's a very personal decision on what you want to do regarding housing. Make sure you weigh the pros and cons of building, buying, renting, or staying where you are currently. There are many factors to consider but a good mortgage loan officer, can help you navigate all your options and give you peace of mind and the confidence you need when making your decision.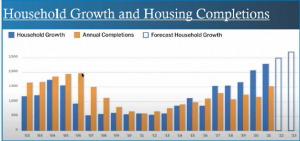 Today's Real Estate Market, Opportunities and Challenges
June, 2022

Written by: Tony Bachman
We live in a community and state that has seen many opportunities with economic development and population growth in the last few years. This presents challenges like housing inventory and affordable housing. There is a unique relationship between Home Builders Association of the Sioux Empire (HBASE) and the Realtors Association of Sioux Empire (RASE), where builders and realtors are helping our clients make educated decisions on one of the most significant investments in their lives. There is a high level of communication and collaboration between our two associations. We work well together, which is excellent for our clients, community, and associations.
We have all seen more demand from our clients for new construction homes, due to low inventory and high demand for homes with HOA's (Homeowners Association), so buyers have more freedom not to be concerned with lawn care & snow removal. We've also had many people relocating from other states who like what our community and South Dakota have to offer families with standard of living, employment and business opportunities. We know that
the community leaders, developers and home builders have been doing their best to help ease our market's current record low inventory conditions with new developments, new construction homes and apartment buildings.
We've all experienced challenges over the last couple of years with shutdowns, low or no inventory and concerns over affordable homes. Fortunately, our clients benefit from the unique relationship we share between HBASE and RASE. With builders and agents who are working together to help our clients achieve the dream of homeownership and make educated decisions about one of the most significant purchases in their lives.
In the conversations we have with clients and builders and on the "It's Your Business" radio show with Bill Zortman, we discuss opportunities and challenges in market statistics by reviewing past trends. In our conversations about opportunities and challenges related to low inventory and rising interest rates, have people asking questions about the state of our current market.
Here are a few talking points for buyers and sellers asking questions about our current market.:
-Is this a good time to buy, or should we wait?
-Will home prices drop? Based on our current inventory level of less than two months, the prices will not drop due to demand being higher than supply. When prices dropped back in 2008, we had over nine months of inventory. Until we see over six months of home inventory, we are still in a seller's market.
-Appreciation of home values in South Dakota from Jan 2018 to Dec 2021, there has been an average of 52% appreciation. In 2022 home appreciation is expected to increase by about 9%, which is double traditional average appreciation of 4%. With rising interest rates, buyers shouldn't wait for prices to fall anytime soon.
-Appreciation for a home sold in Jan 2022 for $360,000 is expected to be worth $455,000 by Jan. 2027
-When addressing concerns about rising prices and inflation, homeownership is one of the best investments anyone can make to hedge against inflation.
The low inventory and high demand have created an imbalance between supply and demand. It has been challenging for people searching for homes; it looks like this imbalance will continue through 2022 and into 2023.
We are blessed to live in the Sioux Falls area with our outstanding standard of living, which is vibrant with excellent access to medical facilities, a solid & diverse economy and all the significant cultural aspects our community has to offer. We will see continued growth and interest from people looking to relocate moving forward.
In conclusion, it is a privilege to have the HBASE and RASE work closely together to help solve homeownership challenges! June is National Homeownership Month which celebrates the value that homeownership brings to families, communities, and neighborhoods. We all take pride and joy in helping people achieve the American Dream.
Planning for the City of Sioux Falls
May, 2022

Written by: Jeff Eckhoff (Director of Planning & Development Services at City of Sioux Falls)
It is no secret that we are riding an unprecedented wave of residential and commercial growth in the City of Sioux Falls. Last year saw us surpass the $1 billion mark in total permit value and while commercial building saw big gains, single and multi-family construction led the way with over 3,000 housing units permitted for a total valuation of almost $600 million! This included 850 single family homes and over 1,800 apartment units. Combined with 2020, over 5,800 new housing units, almost 1,600 of which were single family homes, have been permitted in the last two years. So the question on everyone's mind is will this continue and if so for how long? A review of 2021 tells us the following. Preliminary plans are an early indicator of land development and in 2021, 1,307 acres were submitted for preliminary plan approval, twice the annual average.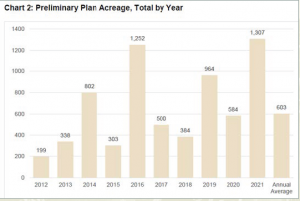 And while the southeast continues to carry the most robust building the northwest and northeast quadrants showed the greatest increase in newly platted acres which is a reflection of the increased interest caused by the growth of Foundation Park and the opening of Jefferson High School.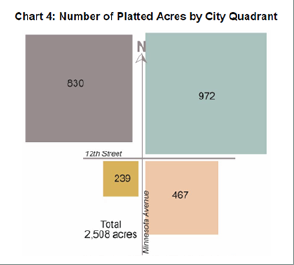 And while the platted acres are indicators of future growth the number of platted lots still remain strongest in the southeast.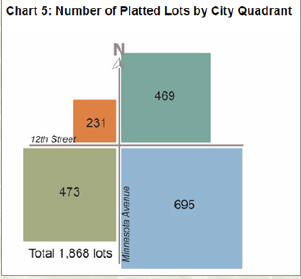 And finally let's look at building permit activity over the last five years for the different types of residential construction.

This data and more can be found on the City's website, https://www.siouxfalls.org/planning-dev/planning click on the 2021 Development Survey link.
As of April 8, less than 1/3 into the year, the City has already permitted over $407 million of projects which includes 202 single family homes, 93 town homes, and 934 apartments. And while it is easy to assume that topping last year's building is a forgone conclusion, it is worth noting that headwinds do exist: cost escalation (March CPI at 8.5%); material and labor availability; interest rate increases; and of course the escalating war in Ukraine and the fallout from economic sanctions on the global economy, all cast uneasy shadows on predicting the national and local economy.
Administratively, we will continue the work of addressing the incredibly complex issue of accessible workforce housing. Through Mayor TenHaken's Housing Action Plan we have developed a streamlined Tax Increment Financing Program for home ownership that assists with infrastructure in return for homes that meet South Dakota First Time Home Buyers criteria. We have added flexible financing for multi-family projects that reserve a minimum number of units for affordability and provide down payment assistance to Public Service Officers in qualified neighborhoods. We have also expanded our home repair and rental repair programs to serve a broader range of buyers and property owners. And finally we are working with our non-profit partners to recycle homes that were previously scheduled for demolition.
Solving the accessible housing need is a complicated, multi-faceted issue that carries no silver bullet. Key to this effort is our partnership with our Home Builders, lenders, and developers as we work hard to develop programs that retain the integrity of the market and work for the long term benefit of the community. We continue to rely on your candid input as we adopt the latest building codes and write our local amendments so they make sense for our market and for Sioux Falls.
Yes housing is incredibly complicated and it will take all of us to pull through. On behalf on the City I want to personally thank HBASE for your continued partnership and support, we couldn't do it without you!
Career Housing: South Dakota's Next Frontier
February, 2022

Written by: Governor Kristi Noem
South Dakota has built the strongest economy in the country. That's great news for our people, our communities, and our businesses.
In 2021, South Dakota gained 22 new residents each day. We saw three years' worth of revenue growth in a single year. And our unemployment rate is just 2.7%. This is making our state stronger-but it also comes with some growing pains, especially when it comes to housing.
Housing is South Dakota's biggest need right now. Families are struggling to afford the few houses that are on the market. Businesses that are desperate for workers can't find anywhere for them to live. That's why I have made spurring the development of career housing one of my top priorities during this legislative session.
My budget recommends an investment of $200 million in housing infrastructure. This funding would be routed through the Office of Economic Development's Local Infrastructure Improvement Program (LIIP). This is a program that is already well-established and familiar to South Dakota communities. We'll be asking for an equal match from cities and from developers for these dollars, turning it into a $600 million overall investment in housing across South Dakota.
These grants will help cover some of the upfront costs of housing development-water, sewer, curb and gutter-for single-family homes and multi-family complexes alike. This will be especially helpful in attracting developers and builders to our smaller towns and more rural areas.
Our goal is to increase the housing supply in South Dakota. That's going to look different in every community. And that's why we'll be relying on city and community leaders to tell us what they need. We want to see cities and developers thinking creatively, together, and coming to us with those ideas and plans.
My Office of Economic Development is well-equipped to get these funds out the door quickly and efficiently. They will work in partnership with cities and developers to fund their unique housing needs-and provide significant flexibility regarding matching funds. Those can be direct matching dollars, it could be TIF, it could be donated land-whatever makes the most sense for each community. The bottom line is that this will not be a one-size-fits-all approach. With no minimum or maximum funding amount, we allow the cities and developers to come to us with proposals that meet the specific needs of their communities.
With national conditions changing daily-supply chain issues and inflation rising- I am emphasizing to lawmakers the importance of taking care of this now so we don't get bogged down by future hurdles. This is not just an investment in these communities. This is an investment in the future of South Dakota- and I encourage all of you to let your state legislators know how important this investment is.
Addressing Community's Housing Needs Through Diversified Approach Focused on Partnerships, Collaboration Together
January, 2022

Written by: Mayor Paul TenHaken
Sioux Falls is experiencing record growth, as evident by our recent milestone of filing $1 billion in building permits for 2021 even before the close of the year on Nov. 22. We continue to see new businesses open and existing businesses announce expansion-a key indication that we're on the right path as a community. Our community continues to be a draw as an exceptional place to live, work, raise a family and start a business.
The flip side to our record growth brings with it tension in both workforce and housing needs. Know that as a city team we are very intentional on being strategic with our growth management planning. We are having ongoing conversations to ensure we are growing in a sustainable manner, which includes conversations around housing concerns. A sufficient housing supply is critical to recruiting and retaining our city's workforce to sustain our economic growth.
While housing demands have recently become more apparent in Sioux Falls, our attention to housing as a foundational element for economic growth is not new. When I took office in 2018, I developed the One Sioux Falls framework to focus on the city's most pressing issues, including housing. That decision to create housing as an administration priority has helped to lay a foundation to prioritize housing needs today. We must continue to adapt to our response to the community's housing needs as Sioux Falls grows, and we're tackling this complex issue through a diversified approach that is focused on partnerships and collaboration.
That includes partnerships both at the state and local level, including continued collaboration with the Home Builders Association and South Dakota Multi-Housing Association. For example, we rly on industry input when considering changes to building codes that will affect the housing industry, and we appreciate this continued partnership.
Our 2026 Housing Action Plan serves as a multifaceted framework to help solve today's challenges, with focus areas on land, workforce, public incentives and partnerships, design and building standards, and infrastructure. We're already seeing success in several areas. Business partnerships such as Millard Acres, a partnership with Habitat for Humanity to construct 26 affordable twin homes, are important areas of opportunity. We have also increased support for Forward Sioux Falls and Southeast Technical College, and with the City Council, developed a Housing Fund to generate creative approaches that address needs across the broad spectrum of the industry.
We recently created the City's Neighborhood Revitalization Division, which brings our teams that address housing and neighborhoods together and working to keep existing Sioux Falls neighborhoods investable. This division is working with property owners and meeting with neighborhood associations on keeping property up and crime down in Sioux Falls. Within the Planning team, we recently added a new plans examiner to help address our growing workload and review plans in a timeframe that affords our contractors the ability to reasonably meet their project timelines.
Moving forward as we advance our 2026 Housing Action Plan; we continue to focus on strategies that will move the needle on housing within the identified core areas. That includes continuing to leverage available federal funds and public incentives to reinvest in our city's core neighborhoods. Among many efforts, we are also working with partners to proactively assemble land for redevelopment and for moving existing homes. Additionally, in 2022, we will be sharing recommendations from the Accessible Housing Advisory Board (AHAB) for the Housing Fund. These recommendations will address single-family, multi-family and neighborhood revitalization, all critical components to housing in Sioux Falls.
Addressing our community's housing needs will require a continued focus on collaboration and a strategic approach to position Sioux Falls for the future. Thank you for your continued partnership in this important work.
Home Builders Association Announces New President
December, 2022

Leadership ensures continued success for local home builders and community engagement.
The Home Builders Association of the Sioux Empire announces Jon Beatch, Beatch Construction LLC, as the new 2022 President of the Association. Jon succeeds To Jarding of Jarding Construction. His role will focus on ensuring a steady path forward, helping to uncover ways to address industry opportunities including building the local workforce and easing supply chain issues.
"This announcement is especially rewarding," says Tom Jarding. "Jon is an empathetic, multi-tasker and will serve our Association with a heavy focus on communication, tackling each challenge, head on. His easy-going personality makes him an approachable leader for our membership and community."
The Home Builders is a diverse non-profit where members strive to meet the housing needs of the Sioux Empire. 200+ builder member companies collaborate as small-volume builders, production builders, single-and multi-family builders, light commercial builders, remodelers, and land developers. In addition, over 550 Associates add value as subcontractors, service providers and suppliers (i.e., windows, drywall, electrical, flooring, paint, furniture, landscaping, etc.).
While the Association has grown steadily over the years, Jon's role will represent a strong network of craftsmen, innovators and problem solvers dedicated to building homes, enriching communities, and changing lives.
The Association has worked through the pandemic, crafting new ideas and busy building schedules. "The transition from Tom will ensure a continued resilient effort," says Beatch. "As industry professionals, we are eager to see success for the surrounding area in creating affordable housing and we'll continue to focus on celebrating the 'small stuff' every single day.
The Sioux Empire Home Show, where Beatch serves as a Vice Chair, will kick off the year, February 25-27. "This will be the first event where our community can join us in 2022, seeing the latest home design ides at the Sioux Falls Convention Center, "Beatch shares. "Folks can see everything in one stop: home technology, kitchen/bathrooms, cabinetry, outdoor furniture, hardscapes and more. We've got over 200 local vendors sharing the latest trends to explore."
Jon has more than 15 years in home building and remodeling, delivering successful residential projects across the Sioux Empire. He has participated and le various Association committees including the Builder's Forum and jump started the Events Committee. He's also active with the Remodeling Council, the Showcase of Remodeled Homes event (occurs annually in the fall) and the Home Builders Care Foundation, the philanthropic arm of the organization. He attended North Dakota State University for Construction Engineering and is a 2nd generation builder, working with his dad, brother and wife for their family business founded in 1977.
Jon's presidential term will go through December 2022.