You & Your Employees Can Save
Builder and remodeler members may be eligible to receive quarterly rebates in excess of your membership dues. Through the Member Rebate Program, over 50 of the nation's leading manufacturers are offering rebates to thank their loyal customers. These savings can work on new single family and multifamily projects in addition to home remodels too.
Products must have been installed in homes or remodeling projects completed within the last few months (view the website for specific dates based on which quarter your applying for). Even if a subcontractor bought these products per the builder's request, they may still qualify. They're not required to submit receipts and they don't have to change how they purchase products going forward. The Rebate Program files the paperwork, collects the money and mails the rebate check directly to the builder member.
These quarterly rebates will be an ongoing member benefit so if you don't qualify this time around, check back in the near future for other eligible rebates.
BUILDSPEC Loan Program
Low interest rate construction loans for spec homes
About the loan program
Provides an incentive for builder members to build spec homes. The program is a partnership with the South Dakota Home Builders Association and the South Dakota Housing Development Authority whereby the SDHDA makes low interest construction loans to builder members for spec homes.
Who qualifies?
Builder members of the South Dakota Home Builders Association qualify with a limit of one loan at a time. If a builder has had a BuildSpec Loan previously, and there is a waiting list, the builder must go to the end of the waiting list.
How much money is available in the BuildSpec Loan Program?
A total of $2 million is available in the program
What are the terms?
Only speculative homes qualify
The maximum value of the home is $300,000
The maximum loan is 80% of the value of the home
There is an origination fee of 1% of the amount of the loan
The maximum term of a loan is 12 months, however, a builder may be considered for an extension of 6 months if requested.
The interest rate the first six months of the loan is 0%. The interest rate the second six months period is 1/2 of the market rate used by the South Dakota Housing Development Authority
If a builder requests a third six month extension and is approved, the builder will pay an additional origination fee of .5% of the loan amount, and pay the full market interest rate used by South Dakota Housing Development Authority
How to apply for a loan
Please contact the South Dakota Housing Development Authority: (605) 773-5236, Mike@SDHDA.org
The HBA is the heart and soul of our local building industry. When the people of in the Sioux Empire want to buy, build, finance, remodel or maintain a home, they look to the Home Builders Association of the Sioux Empire as their go-to resource for professionals.
Helping Members Along the Way
Online Toolkits & Publications
Association members gain a competitive edge with the National Association of Home Builders' Business Tools: members-only tips and management strategy to build your company, boost your marketing and gain business know-how. From financial & accounting to ready-made presentations to strategic business planning and technology solutions... utilize your National membership by taking advantage of these online tools today! More details...
Injury statistics show that new employees on the job for less than six months have a greater chance of being injured. Providing construction jobsite orientation training to new employees on safety basics will reduce accidents and save your company money. Other toolkits available to members online are related to OSHA Inspections, Trenching & Excavation, Electrical Safety and more. More details from the National Association of Home Builders (NAHB)...
Local association members are also members of the SDHBA and NAHB. Are you taking advantage of the free industry related publications out there? From NAHB's Housing Developments Podcast to ProBuilder Magazine to Eye on Housing Blog and so much more, click here for details and how to sign up today.
Addiction & Mental Health in Construction
The National Association of Home Builders (NAHB) is committed to reducing the impact of substance use disorder and recognizes that stigma plays a role in preventing people from seeking treatment. So through their partnership with Shatterproof, members can use Just Five which is a free website that is voluntary and confidential. Learn who's at risk for addiction or mental health issues, how to know if a person has a substance use disorder, and more. Invest just five minutes to better understand this illness for yourself or your employees.
The National Association of Home Builders (NAHB) offers a free online screening tool that enables members to take a confidential & anonymous self-assessment and, depending on the outcome, guides them to a customized set of resources that can connect them with appropriate services to address mental health and/or addiction issues. This member service is offered through a partnership between NAHB and MindWise Innovations.
Member Mental Health & Wellbeing
Did you know...
15% of construction workers live with a substance use disorder?
50% of all construction workers will experience a diagnosable mental health problem?
The construction has one of the highest rates of opioid overdose deaths?
So why is construction especially stressful?
Competitive, high pressure, & high-risk environments
Lack of community when traveling for work
Seasonal unemployment
Long hours and long commutes lead to physical & mental exhaustion
Chronic physical pain
Because whether it is us, our families, friends or co-workers, behavioral health problems are common all across the board. While 70% of of adults experience symptoms of anxiety, 17.3% of adults experience symptoms of depression. Construction can be a great job as there's satisfaction working as a team to build places that people appreciate and use. And yes, we take pride in what we do, but there is also a lot of stress in our jobs too.
According to the CDC, construction is one of the jobs with the highest rate of death by suicide and substance abuse. And that's why the National Association of Home Builders (NAHB) is striving to bring awareness to this and offer care to its members for their behavioral health as it's a part of overall safety.
MindWise recently conducted a study for NAHB to better understand mental health, substance misuse, and suicide in the construction industry. A major finding was that even if individuals want to talk about mental health, they often don't know how. A national study found that 60% of employees who experience mental health issues have never spoken about it to anyone at work. This study shows that employees want to be able to communicate more openly about behavioral health in an accepting culture, receive training, and get clear information about where to go for support.
The ACT Method
Acknowledge that you've noticed a change in demeanor or mood.
Care by reminding them that you are there for them.
Talk about information and resources. Ask how you can help.
People who work in construction are significantly more likely to become addicted to opioids, like prescription painkillers, than are workers in the general population and are six times more likely to die as a result of overdose. The impact on a business can be significant and includes loss of productivity, healthcare expenses, absenteeism, turnover and much more. A proactive approach to this crisis with knowledge and without stigma is critical to the health of the industry and the people who work in it.  More details...
Advertising Opportunities
Printed monthly newsletter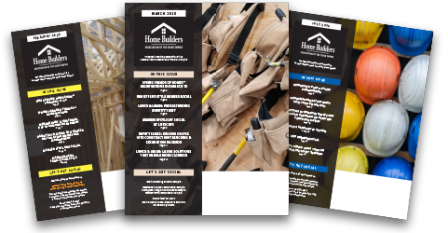 The official printed newsletter of this association
Stay informed with the latest news and happenings of the association. Learn about involvement opportunities for members, read up on the latest building permit stats and keep informed of recent news which may impact your business. The newsletter is mailed to Primary and Affiliate members and arrives around the first of each month (11 issues/year).
Ads on hbasiouxempire.com
We currently offer one banner ad size on hbasiouxempire.com.
Dimensions 160px w x 70px h
Ad rotates in the bottom pages of hbasiouxempire.com
The website receives around 200,000 visitors annually
The rate for the online banner ad option is $744/year.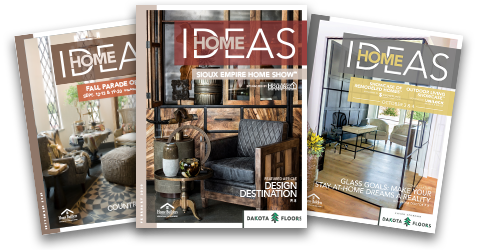 This free monthly consumer magazine is the official event publication for the Home Builders Association of the Sioux Empire (Sioux Empire Home Show, Spring & Fall Parade of Homes, Showcase of Remodeled Homes, Outdoor Living Showcase). Advertisers in the publication must be members of the association. Home Ideas Magazine is produced in partnership with Michels Communications and 44i, Inc.
---
Event maps and full participant listings are only allowed to be published in the official event publication, on the association's website, in media purchased by the association and in other committee approved locations.
Any digital event marketing posted by members will link to the association website.
The selling of any form of advertisement referring to an association major event or utilizing the event name or logo, other than through the official event publication, is prohibited.
Talk to your sales rep today about available advertising opportunities in Home Ideas Magazine.
Not sure who your rep is? Call the association office at (605) 361-8322 to inquire.
Sponsorship Opportunities
Previous year's sponsors are given first rights to renew their sponsorships for the upcoming events.
Once a month, association members can host a "Member Spotlight Social" at their place of business. This is a great opportunity to showcase your products/services and introduce your staff as well to many members in a casual and fun environment. For a $500 sponsorship fee, the association will promote the event and your company's logo on promotional materials to encourage members to visit your office during the open house type event. Hosting member is asked to provide food & drinks at the event as well (they may choose what kind & how much while alcohol is optional).
Membership Spotlight Sponsorship opportunities are sold out for 2023
The association hosts three golf outings each year. With these events, there are a number of sponsorship opportunities available from lunch sponsors to beverage cart sponsors.
This annual event is a great opportunity for members to get their company name in front of a large number of members. Sponsorship types vary from drink sponsors to dinner sponsors and more.
Throughout the year, the association provides a number of educational classes called the 'Safety Series'. Sponsor logos are displayed on marketing materials where the classes are promoted.
Does your company have a unique topic to talk about during a lunch and learn style class? For the small cost of providing lunch to attendees, members are welcome to host these events in our board room (pending topic approval by committee).
Committees & Board Involvement
Joining a committee or board is a great way to get involved, meet new people and contribute your skills to the betterment of the industry. Most meetings are one hour in length. Most are held at the association office but occasionally may be held off-site. Meeting invites are sent to all committee or board members before each meeting.
Committee dates and times are subject to change. Meetings are posted on the association's website and in the newsletter. Meeting notices are emailed with an electronic 'add to calendar' link in the registration email offering a pop-up reminder.
Events Planning Committees
This committee is responsible to recruit and retain members for HBASE. This committee encourages involvement of all current and potential members. This committee is the cheerleaders and leaders driving membership numbers to new levels. This committee will also oversee the membership benefits program for HBASE. This committee will meet at least 10 times a year and could be called more if needed.
To join this committee or request additional information, please click here.
This committee will have both current leadership and past board members that will be responsible for identifying future leaders of the association, recruit new board members and provide recommendations back to the HBASE board. This committee will meet at least 3 times a year and could be called more if needed.
If you're a past board member and interested in joining this group, please click here.
This committee will review proposed state legislative bills and national legislation. This committee is responsible to bring recommendation forward to the board concerning state legislative bills and national legislation. This committee will meet 2 times out of Session, once in the winter and once in the fall, then weekly January-March.
To join this committee or request additional information, please click here.
This committee is responsible to review changes made to the International Residential Code (IRC) and work on local issues affecting builders, developers, and industry. This committee is responsible for the planning and organizing of the Bus Tour event. This committee will meet at least 10 times a year and could be called more if needed.
To join this committee or request additional information, please click here.
This committee will work on and find solutions that address the labor issues in the industry. This committee will meet 6 times a year and could be called more if needed.
To join this committee or request additional information, please click here.
Giving Back by Helping Out
The annual Sioux Empire Home Show would not be the success that it is without the help of our generous member volunteers. We usually begin asking for volunteers late in the year for the upcoming show. And remember that anyone in your office can volunteer too!
Volunteers are encouraged to help during multiple shifts
Volunteers are suggested to wear their company's apparel while volunteering as it's a great promotional opportunity as well
Volunteer positions include taping off booth locations, taking tickets, assisting in exhibitor check-in, manning exit only doors, coordinating volunteers, working the exhibitor reception and many other volunteer positions as well
Click here for more details on this exciting event.
During the Spring and Fall events, at times, we'll have generous Builders submit their home as a Feature Home. Although homes on the Parades are free to tour, Feature Homes cost $5 each to tour. The proceeds from these homes benefits the Sioux Empire Home Builders Care Foundation and their on-going efforts.
At each Feature home, we are in need of a number of volunteers to work two-hour shifts to take money from consumers. Click here for more details on the event.
Each year, approximately 50-70 volunteers from the association are needed for this community event. A Builder member serves as the project's team leader while the additional volunteers assist as needed throughout the day (no skill or special tools required). These free accessibility related repairs are completed for income qualifying homeowners in the region. We typically have 8-15 projects each year when we hold our annual Repair Affair Day in June.
Click here if you are a member of the the association & want to be added to the volunteer list for the upcoming year.
Throughout the year, the association hosts a number of events for members. At times, we are in need of volunteers to help check attendees in and more.
Volunteering at these events is a great way to get in front of your fellow members. Click here to get on our list of volunteers for these fun networking events.
Recruit ONE in 2021
Join us in our annual membership recruitment contest held Oct. 1-14, 2021. Full membership will be broken down into 7 teams and announced at a Drive Kick-Off Party on Thurs, Sept. 16 from 3:30-4:30pm at the Holiday Inn hotel lobby bar (just prior to general membership meeting). Recruit, recruit, recruit!! Top recruiter will win $500! And everyone else, as many new members as you recruited in the drive, your name will go into a drawing that many times for a 1 of 4 prizes of $250 (can only win this ones). We also have various other gift cards we'll give out during the drive too. Winners announced at 5:30pm on Friday, October 15 during the social of the Member Appreciation Night (prior to Stampede game).
For more information or to request a list of prospective members, click here.
Each summer, we are in need of helpers for the Summer Construction Camp for middle schoolers held at CTE. Helpers assist the campers in their daily projects that they work on and help to alleviate some of the pressure from the camp teacher. Click here to request more information on how you can help out.
Each summer, we are in need of presenters for the Summer Construction Camp for middle schoolers held at CTE.
Are you a plumber? Builder? Electrician? Stop by and give a crash course to the campers on the basics of how your industry works. The goal of the camps is to get students interested in the building trades at an early age. Hands-on activities can be a very beneficial learning factor as they grow. Click here to request more information on how you can help out.
Throughout the year, the association has the opportunity to present to students at career fairs and in classes to talk to students about the building-industry. Click here to request more information on how you can help out.