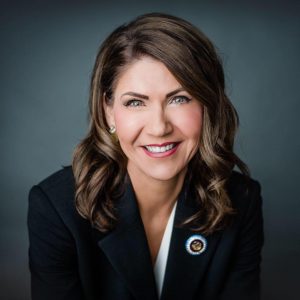 By Governor Kristi Noem
South Dakota has built the strongest economy in the country. That's great news for our people, our communities, and our businesses.
In 2021, South Dakota gained 22 new residents each day. We saw three years' worth of revenue growth in a single year. And our unemployment rate is just 2.7%. This is making our state stronger—but it also comes with some growing pains, especially when it comes to housing.
Housing is South Dakota's biggest need right now. Families are struggling to afford the few houses that are on the market. Businesses that are desperate for workers can't find anywhere for them to live. That's why I have made spurring the development of career housing one of my top priorities during this
legislative session.
My budget recommends an investment of $200 million in housing infrastructure. This funding would be routed through the Office of Economic Development's Local Infrastructure Improvement Program (LIIP). This is a program that is already well-established and familiar to South Dakota communities. We'll be asking for an equal match from cities and from developers for these dollars, turning it into a $600 million overall investment in housing across South Dakota.
These grants will help cover some of the upfront costs of housing development—water, sewer, curb and gutter—for single-family homes and multi-family complexes alike. This will be especially helpful in attracting developers and builders to our smaller towns and more rural areas.
Our goal is to increase the housing supply in South Dakota. That's going to look different in every community. And that's why we'll be relying on city and community leaders to tell us what they need. We want to see cities and developers thinking creatively, together, and coming to us with those ideas
and plans.
My Office of Economic Development is well-equipped to get these funds out the door quickly and efficiently. They will work in partnership with cities and developers to fund their unique housing needs—and provide significant flexibility with regard to matching funds. Those can be direct matching dollars, it could be a TIF, it could be donated land—whatever makes the most sense for each community. The bottom line is that this will not be a one-size-fits-all approach. With no minimum or maximum funding amount, we allow the cities and developers to come to us with proposals that meet the specific needs of their communities.
With national conditions changing daily – supply chain issues and inflation rising – I am emphasizing to lawmakers the importance of taking care of this now so we don't get bogged down by future hurdles. This is not just an investment in these communities. This is an investment in the future of South Dakota—and I encourage all of you to let your state legislators know how important this investment is.