ASSOCIATION NEWSLETTER

The official printed monthly publication. Stay informed on recent news and happenings of the association. Learn about involvement opportunities for members, read up on the latest building permit stats and keep informed of the latest news which may impact your business. Issues are mailed to Primary and Affiliate members around the 1st of the month.
Advertise in the newsletter
Advertising in the newsletter is a great way to get your company's name in front of your fellow members.
HOME IDEAS MAGAZINE

This free magazine is the official industry and event publication for the association. The publication promotes the association's major events and members. Pick up your free issue at our office.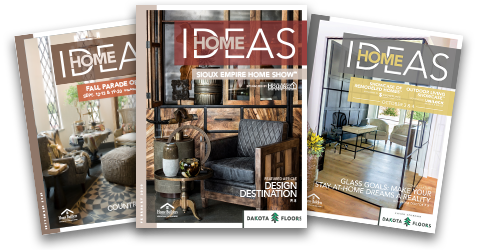 Advertise in Home Ideas
Advertising in the newsletter is a great way to get your company's name in front of consumers.
Today's Real Estate Market, Opportunities and Challenges
June, 2022

Written by: Tony Bachman
We live in a community and state that has seen many opportunities with economic development and population growth in the last few years. This presents challenges like housing inventory and affordable housing. There is a unique relationship between Home Builders Association of the Sioux Empire (HBASE) and the Realtors Association of Sioux Empire (RASE), where builders and realtors are helping our clients make educated decisions on one of the most significant investments in their lives. There is a high level of communication and collaboration between our two associations. We work well together, which is excellent for our clients, community, and associations.
We have all seen more demand from our clients for new construction homes, due to low inventory and high demand for homes with HOA's (Homeowners Association), so buyers have more freedom not to be concerned with lawn care & snow removal. We've also had many people relocating from other states who like what our community and South Dakota have to offer families with standard of living, employment and business opportunities. We know that
the community leaders, developers and home builders have been doing their best to help ease our market's current record low inventory conditions with new developments, new construction homes and apartment buildings.
We've all experienced challenges over the last couple of years with shutdowns, low or no inventory and concerns over affordable homes. Fortunately, our clients benefit from the unique relationship we share between HBASE and RASE. With builders and agents who are working together to help our clients achieve the dream of homeownership and make educated decisions about one of the most significant purchases in their lives.
In the conversations we have with clients and builders and on the "It's Your Business" radio show with Bill Zortman, we discuss opportunities and challenges in market statistics by reviewing past trends. In our conversations about opportunities and challenges related to low inventory and rising interest rates, have people asking questions about the state of our current market.
Here are a few talking points for buyers and sellers asking questions about our current market.:
-Is this a good time to buy, or should we wait?
-Will home prices drop? Based on our current inventory level of less than two months, the prices will not drop due to demand being higher than supply. When prices dropped back in 2008, we had over nine months of inventory. Until we see over six months of home inventory, we are still in a seller's market.
-Appreciation of home values in South Dakota from Jan 2018 to Dec 2021, there has been an average of 52% appreciation. In 2022 home appreciation is expected to increase by about 9%, which is double traditional average appreciation of 4%. With rising interest rates, buyers shouldn't wait for prices to fall anytime soon.
-Appreciation for a home sold in Jan 2022 for $360,000 is expected to be worth $455,000 by Jan. 2027
-When addressing concerns about rising prices and inflation, homeownership is one of the best investments anyone can make to hedge against inflation.
The low inventory and high demand have created an imbalance between supply and demand. It has been challenging for people searching for homes; it looks like this imbalance will continue through 2022 and into 2023.
We are blessed to live in the Sioux Falls area with our outstanding standard of living, which is vibrant with excellent access to medical facilities, a solid & diverse economy and all the significant cultural aspects our community has to offer. We will see continued growth and interest from people looking to relocate moving forward.
In conclusion, it is a privilege to have the HBASE and RASE work closely together to help solve homeownership challenges! June is National Homeownership Month which celebrates the value that homeownership brings to families, communities, and neighborhoods. We all take pride and joy in helping people achieve the American Dream.
Planning for the City of Sioux Falls
May, 2022

Written by: Jeff Eckhoff (Director of Planning & Development Services at City of Sioux Falls)
It is no secret that we are riding an unprecedented wave of residential and commercial growth in the City of Sioux Falls. Last year saw us surpass the $1 billion mark in total permit value and while commercial building saw big gains, single and multi-family construction led the way with over 3,000 housing units permitted for a total valuation of almost $600 million! This included 850 single family homes and over 1,800 apartment units. Combined with 2020, over 5,800 new housing units, almost 1,600 of which were single family homes, have been permitted in the last two years. So the question on everyone's mind is will this continue and if so for how long? A review of 2021 tells us the following. Preliminary plans are an early indicator of land development and in 2021, 1,307 acres were submitted for preliminary plan approval, twice the annual average.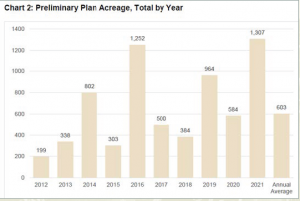 And while the southeast continues to carry the most robust building the northwest and northeast quadrants showed the greatest increase in newly platted acres which is a reflection of the increased interest caused by the growth of Foundation Park and the opening of Jefferson High School.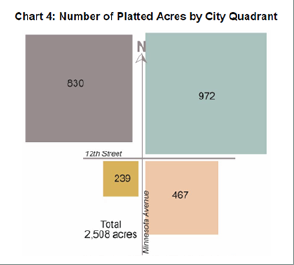 And while the platted acres are indicators of future growth the number of platted lots still remain strongest in the southeast.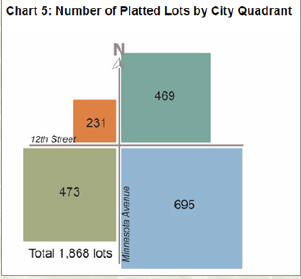 And finally let's look at building permit activity over the last five years for the different types of residential construction.

This data and more can be found on the City's website, https://www.siouxfalls.org/planning-dev/planning click on the 2021 Development Survey link.
As of April 8, less than 1/3 into the year, the City has already permitted over $407 million of projects which includes 202 single family homes, 93 town homes, and 934 apartments. And while it is easy to assume that topping last year's building is a forgone conclusion, it is worth noting that headwinds do exist: cost escalation (March CPI at 8.5%); material and labor availability; interest rate increases; and of course the escalating war in Ukraine and the fallout from economic sanctions on the global economy, all cast uneasy shadows on predicting the national and local economy.
Administratively, we will continue the work of addressing the incredibly complex issue of accessible workforce housing. Through Mayor TenHaken's Housing Action Plan we have developed a streamlined Tax Increment Financing Program for home ownership that assists with infrastructure in return for homes that meet South Dakota First Time Home Buyers criteria. We have added flexible financing for multi-family projects that reserve a minimum number of units for affordability and provide down payment assistance to Public Service Officers in qualified neighborhoods. We have also expanded our home repair and rental repair programs to serve a broader range of buyers and property owners. And finally we are working with our non-profit partners to recycle homes that were previously scheduled for demolition.
Solving the accessible housing need is a complicated, multi-faceted issue that carries no silver bullet. Key to this effort is our partnership with our Home Builders, lenders, and developers as we work hard to develop programs that retain the integrity of the market and work for the long term benefit of the community. We continue to rely on your candid input as we adopt the latest building codes and write our local amendments so they make sense for our market and for Sioux Falls.
Yes housing is incredibly complicated and it will take all of us to pull through. On behalf on the City I want to personally thank HBASE for your continued partnership and support, we couldn't do it without you!
Jeff Pickett, Media by JP
Spring is just around the corner, but the construction industry continuously works year-round. While 2020 has taken an unexpected turn for both the world and our local communities, it is important to remember that our current state is only temporary and soon enough, life will return to normal.
As many are spending more time at home due to social distancing, now is a perfect time to start planning your upcoming indoor and outdoor home-related projects. Members of the Home Builders Association of the Sioux Empire consist of a large variety of companies from Builders and Remodelers to Landscapers and more. Have you been thinking about remodeling your kitchen, creating an inviting outdoor entertainment area, or are you ready to build your dream home? Now is a great time to contact a building professionals to get on their list to review your project.
When planning your next project, stop by the member directory page at hbasiouxempire.com to find companies to work with from the planning to final stages of any project you may have in mind. Start contacting these companies now so that you can get on their list before spaces start to fill up for the year.
#  #  #
Media contact:
Annette Amdahl
Public Relations Director
(605) 212-7707, annette@hbasiouxempire.com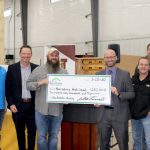 Jeff Pickett, Media by JP
In a continuing effort to grow our future building trades' workforce, the Sioux Empire Home Builders Care Foundation and the Harrisburg School District held the official ribbon cutting of the Home Builders Academy on Harrisburg High School's campus. A check presentation for $250,000 from the foundation was also held during this press conference along with certificate presentations of graduating students.
In the new Home Builders Academy building, students will learn the basic skills needed to construct a home. Not only will the Sioux Empire Home Builders Care Foundation be the lead investor of the new building but industry leaders will also be coming into the classroom to provide industry expertise.
The Home Builders Academy broke ground during the groundbreaking ceremony in July 2019, while the first students to participate in the program, began their classes in the Fall. During construction, classes were held in the shop of Harrisburg High School, but since completion, the students have moved their projects into the new facility.
Click here for photo gallery of event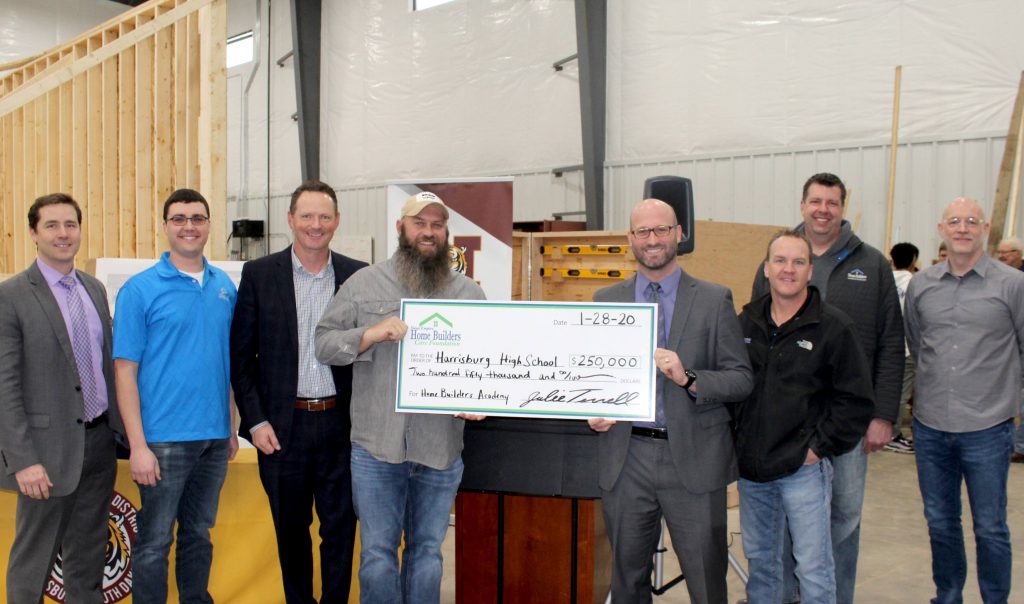 Check presentation from Sioux Empire Home Builders Care Foundation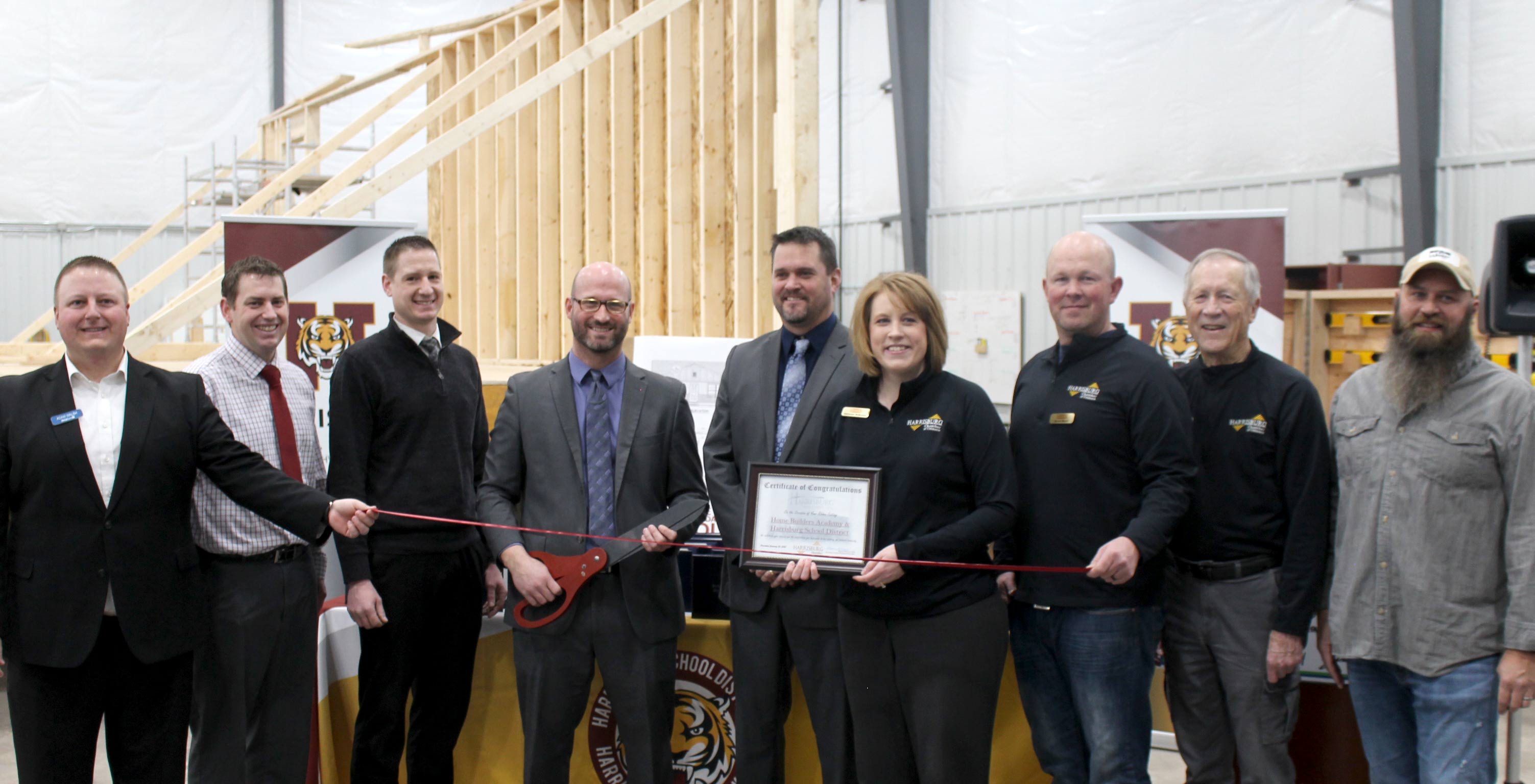 Ribbon cutting with the Harrisburg Chamber of Commerce